SRM Ref Tech is the contracting and service company within Svenska Rotor Maskiner. We work with refrigeration, heating and compression applications. The company originates from Refrigeration Technology of Scandinavia AB, which was acquired by Svenska Rotor Maskiner 2007.
Our customers are central and local government, food industry and distributors, chemical and process industries and energy distributors. The list goes on but the common is the use of a facility that is long term, economically efficient and have a low impact on the environment.
We offer installation with both standardized units (such as chillers, heat pump units), customized units or fully customized systems. A deep knowledge in various refrigeration applications ensures the right solution.
Our services cover the obvious installations of our products, but also the systematic maintenance, troubleshooting, repairs, etc., of other systems that are part of our commitments.
Contact us so we can discuss your project.
A glance of historical milestones, who made who we are today
1908

AB Ljungström Ångturbin (ALÅ) founded, later on changed to Svenska Rotor Maskiner, and the President Birger Ljungström recruited three highly qualified employees, KG Karlsson subsequently Professor at Chalmers University of Technology (CTH), Oscar Wiberg later on chief engineer at STAL Finspång and Birger´s brother Fredrik. That was the starting point for a number of inventions who have big impact on a lot of Swedish famous and successful companies and as well for the second industrial revolution.

1932

ASEA acquired the refrigeration business from Luth & Roséns Elektriska (Ludwigsbergs Verkstad) and manufacturing of refrigeration systems was forwarded to Svenska Turbinfabriks AB Ljungström (STAL) in Finspång, Sweden

1955

Refrigeration business moved from Finspång to Norrköping and STAL Refrigeration was established.

1959

The first oil injected screw compressor developed by Svenska Rotor Maskiner

1963

The first refrigeration screw compressor manufactured and installed by STAL Refrigeration, via license by SRM, for an ice rink application in Sweden.

1990

STAL carried-out the first R717 (Ammonia) chiller, 210 kW @ +1.5 °C. 100% water, no brine

1997

STAL carried out the first low charge R717 (Ammonia) chiller (40 gr/kW @ A/C)

2000

STAL Refrigeration in Norrköping Sweden closed down the operation and a team of earlier employed engineers founded Refrigeration Technology of Scandinavia (Ref Tech).

2002

REF Tech carried out the first, as an independent company, delivery with two helium compressor stations for the CERN accelerator plant, in the past our team has been involved in many deliveries to CERN during the years at STAL.

2006

Ref Tech carried out the first R717 (Ammonia) high temp heat pump 2.2 MW @ 78°C.

2007

Ref Tech merged with SRM and designed, produced and carried out the first low temp ORC unit for environmentally friendly electric power production, heat source @ 67 °C.

2008

SRM carried out the first dry screw compressor unit for compression of sour gas (contaminated natural gas) for gas treatment and recovering of the sulfur. 2013 we were honored with a new order from the same customer to a similar application for another plant. Previously this sour gas was lost to flare, so the environmental impact is significant.

2012

We were honored with a new order from CERN with two helium compressor stations to the ATLAS particle detector.

2017

SRM Ref Tech together with Swerea MEFOS carried out a gas compressor station for compressing blast furnace off-gas to separate and recover hydrogen and carbon dioxide.
The SRM Ref Tech office at Kummelberget in Saltsjö-Boo.
It is also the office and workshop for SRM International.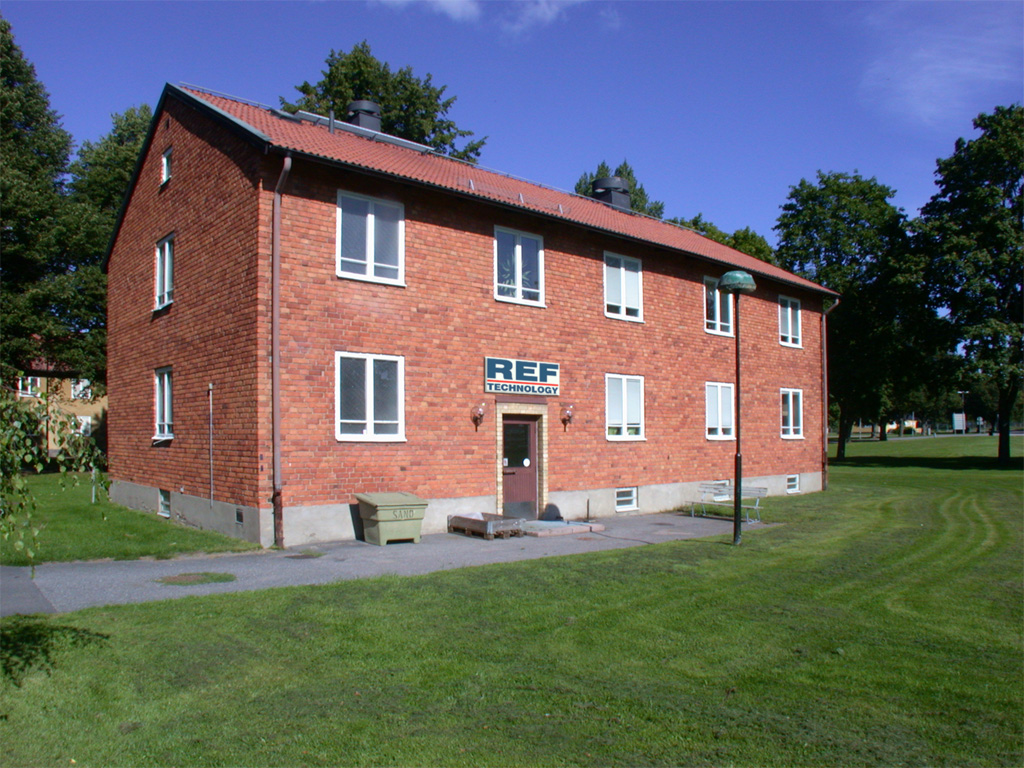 The office where Refrigeration Technology of Scandinavia started in 2000. The Norrköping branch of SRM Ref Tech is still here.
The place is the former military airfield in Norrköping.